Some information about us
On this page we made up some information about us for you and you can throw a glance at our office space.
Your advantages at ScanDig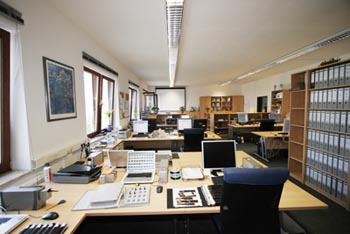 When we started publishing our first film scanner reviews and offering a scan service for slides and negatives in the year 2000 digitalisation was yet quite unknown. Owning a digital camera was considered as a little status symbol and scanning slides or negatives was reserved to some professionals and exotics.
Today there are a lot of companies offering scanning of slides and negatives in the internet - after all anyone can buy a film scanner and offer this service. But often these offerers are unexperienced and their regular occupation is something completely different. They use second class film scanners or even third class flat bed scanners and the handling of the film material is uttermost unprofessional (finger prints, scratches, kinks, specks etc.).
If you entrust us your film or video material you are dealing with a professional company which is able to assure thorough and quick processing of your order. Our know-how, our experience and our skills are your advantages:
Professional processing of your order by qualified personnel
Our team consists of professional staff members for who scanning, image editing, customer consulting and film digitalisation is regular occupation. Our staff includes graduate engineers as well as photographers and digital media designers with professional education. Thus we know by profession how to handle film material, the particularities of photography and image editing and how to process orders in a neat and professional way. Special issues like colour management, screen calibration, photometry or density show a little extract of our expert know-how.
First-class, qualified advice within our shop as well as within our scan and video digitalisation service are top priority. Our qualified personnel is available via email, phone or personally in our office during our opening times.
Year-round availability on 5 days a week
Our team of is available during the whole year from Monday to Saturday within our opening times. We are never closed due to holiday or illness and are also available on bridging days or between christmas and new year.
Many vendors offering services as individuals are only available after closing time and stop their service for several weeks when they are on holidays or sick. Of course individuals of our staff members are on their well-earned holidays occasionally, too, but our business is open during the whole year, i.e. you can send us your order at any time and we can assure immediate processing. You can find our daily updated current processing times highlighted at the top of our price list.
Personal advice in our store
As is generally known many dubious vendors are cavorting in the internet, and you never know if there is only a letterbox or a real company behind the address. Even on the phone you can not know if there is a reliable business partner on the other end of the line or not.
We welcome every customer in excess of email or phone in our store during our opening times. We stock all film scanners, accessories, literature, colour management tools etc. and you can pick up your desired item right away. You can also look over our staff's shoulder during scanning slides and negatives in order to assure yourself of the reliability and neatness of our company.
As a matter of course we do not only welcome customers from Munich and vicinity. We are happy about every customer from far away. Since we are situated directly next to the motorway A8 Munich-Salzburg many people from throughout Germany, the Netherlands, Belgium etc. made a short visit at our store on their way southward.
Conveniently situated for our customers
As described above we are happy about every customer dropping in our store. We are conveniently situated at the southern periphery of Munich. With help of our driving map you can easily find us. Both customers from Munich and visitors >from far away can easily reach us, because we are situated only 5 minutes away from the motorway. This suggests that holidaymakers on their way to Austria or Italy make a little side trip to us. Enough parking spots are available right in front of the store.
You can also reach us by suburban train. You can get from Munich central station to Unterhaching in just 20 minutes with the S3. Our store is just a 3 minutes walk away from the train station. If you visit us by car and want to do some sightseeing in Munich you can leave your car parked here and comfortably go to Munich city by suburban train.
Longtime experience, references, publications
The company ScanDig was founded in the year 2000, when digital photography was still in its infancy. During those times owning a digital camera was a little satus symbol, the term "slide scanning" rather a foreign word. We were into this business since the very beginning and have tested almost every film scanner and published corresponding reviews.
Since the year 2000 we have digitised slides and negatives for tens of thousands of customers and sold film scanners and accessories to just as many people. During all those years we were able to make detailed and big experiences, which we pass on on our websites, for example on colour management or know-how. Not only for this reason we are often mentioned or quoted by the press and in special literature as an expert company or as specialists in the field of slide and negative digitalisation. We also made our mark with own publications in various magazines.
You can find a little extract of our wide customer base as well as our publications and mentions in the specialised press on our references site.
Dealing with major orders and rush orders
Our team stands out due to high flexibility and commitment. No order is to large for us - no major order disrupts our service. With many small vendors an order with 5000 slides leads to holding times of several weeks or even months. We reliably and quickly processed numerous major orders during the last years.
For example we scanned more than 5000 high quality medium format images for the stock agency FLORA-PRESS, we digitised 40.000 35mm slides for the university of Ulm, scanned more than 10.000 negatives for many private customers or digitised and edited tens of thousands of slides for the TopicMedia database. We can process such large orders as quick as smaller orders and we even offer extended services like for example personal pickup of the originals or individual file labelling.
During the last years we stood out not only due to processing major orders and special orders but also due to finishing time critical orders on schedule. We have finished many a rush orders within a few hours. If you have a time critical order please give us a call - we will find a solution together concerning both the shipping and the processing.
Dealing with special orders
If you take a look at our price list, you will see that we have a wide product range. Besides normal 35mm films (mounted slides or film strips) we of course also scan medium formats, large formats, paper prints and APS films. We have even built specially designed film holders and positioning devices for panorama or pocket films, so that we can offer this service on a regular basis as well.
But we are also able to accept very special scan orders, for example fragments of film material, defective APS film cartridges or very exotic film formats. Just contact us and describe your very special request. We will attend to it!
Your film material stays in our house
Many a low-cost suppliers forward film material to large photographic labs or even to countries with low wage levels like Poland or the Czech Republic for scanning the film material there. We assure you that your film or video material does not leave our house. We process each order our selves by our own qualified personnel. This means reliabilty for you.
IHK certified apprenticing company
ScanDig is not just a vending and service company, we also offer the possibility to young people to make an apprenticeship as industrial clerk or digital media designer. We are an apprenticing company approved by the German Chamber of Commerce (Deutsche Industrie- und Handelskammer, IHK).