Options and special requests
We offer the following options and special requests within our scan service in order to bring out the best of your originals with the scan or the subsequent image editing.
Scan area
Normally we scan only the inner image area of a positive or negative, i.e. on each side of the image a couple of pixel rows are cropped. The advantage of this scanning method is that you receive the pure image which you can directly print out or use for a presentation. There is no disturbing edge left on the image. The disadvantage ist that a tiny part of the image is lost by the automated cropping.
Optionally we enlarge the scanning area so that no pixel lines will be lost. There will be a couple of additional pixel rows around the image. Advantage: All the available pixels on the film will be included in the scan file. Disadvantage: The image has to be cropped afterwards with an image editing software.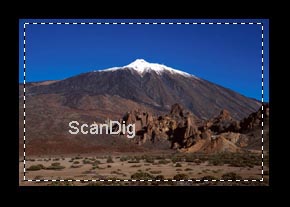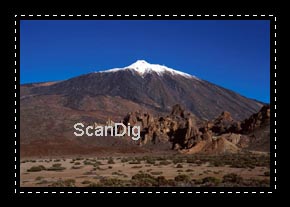 Please check the option no cropping on the scan order form if you do not want the images to be cropped automatically. Please note that this option applies for all images of your order.
| Surcharge per image | Price incl. VAT |
| --- | --- |
| uncropped scan, larger, enhanced scan area | 0,03 € |
Scan area of old paper prints with borders:
There often are curved or jagged white or different-coloured borders around the actual image on some old paper prints. In this case by default we only scan the inner image area. With no cropping we scan the entire print including the borders and a little beyond (see example).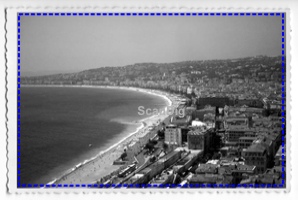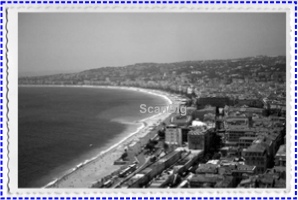 Note on reflective originals: when scanning reflective originals (for example paper prints etc.) we need a lay-on edge in order to align the image, i.e. we adjoin the original to a side guidance on the glass plate of the scanner so that the image is not being scanned in a tilted position. For this reason the option no cropping is only possible to a certain degree at the side guidance.
Multiple scans, multi-exposure scans
Low-cost film scanners scan a film once and send the ditigal data to the connected computer. The scan software then generates the image file. High-quality film scanners have the feature of multiple scans, i.e. the film will be passed several times and the image file will be composed of the interpolated scan data. By multiple scans the image quality can be increased significantly since disturbancies and noise are compensated effectively.
A 2 pass scan takes approx. twice as much time as a normal scan, a 4 pass scan accordingly four times as much. The more often an image is passed the better image quality will be.
Optionally we offer scans with multi exposure. This means, that a picture will be scanned twice, once with low exposure and once with high exposure. From the two singular scans an optimal picture will be computed which has a higher dymanic range.
| Surcharge per image for multiple scans | Price incl. VAT |
| --- | --- |
| 2 pass scan | 0,10 € |
| 4 pass scan | 0,20 € |
| 8 pass scan | 0,50 € |
| 16 pass scan | 1,00 € |
| multi-exposure scan | 0,10 € |
Additional information and examples, which demonstrate the increase of the image quality by multiple scans, can be seen in our chapter about multiple scans. Information about multi exposure and examples with/without multi exposure you find on our page about multi exposure.
Film grain smoothing GEM and color restoration ROC
The Nikon film scanners we use for digitizing your films include the feature of the sophisticated Digital ICE4 image restoration and adjustment. Its three main components are:
ICE automated dust and scratch removal
GEM automated film grain smoothing
ROC automated restoration of color
With Digital ICE tiny particles of dust, scratches and finger prints are removed effectively without loosing any details of the original image. We always use Digital ICE (except for black/white films and Kodachrome films); it is included in our standard prices.
The GEM grain equalization & management process reduces effects of film grain and image noise. A sophisticated algorithm analyzes the structure of the image and smooths film grain patterns. It is recommended to use this feature for coarse-grained and old films. It is generally recommendable if scans are made with high resolutions (e.g. 4000 dpi for 35mm films). The GEM process has no negative effect, i.e. there is no quality loss if the film grain analysis results in no need for correction.
The ROC color restauration algorithm brightens up faded and yellowed films. The ROC process indeed seems to perform miracles for very old film material. Umpteen years old slides which have faded extremely can be restored with this procedure. ROC, however, can result in a quality loss if it is applied for films which have no need for color restauration. In that case undesired colour shifts may occur.
Please, inform yourself about ICE, GEM and ROC, respectively, on our website Image correction procedures.
| Surcharge per scan | Price incl. VAT |
| --- | --- |
| GEM grain smoothing | 0,05 € |
| ROC color restoration | 0,10 € |
Please note that this option applies for all images of your order.
Image editing
Editing the scanned image is directly connected to the scan process itself. We do not only scan your images, we can also take over editing your scans. We offer two options:
Standard image editing: predefined basic adjustments for a fixed price per image
Professional image editing: individual adjustments and improvements charged by time
Standard image editing
Within our standard image editing we perform predefined image adjustments with Adobe® Photoshop® for every image as necessary. These adjustments are listed below:
Removing black borders
Adjusting contrast by means of level correction
Adjusting brightness
Image alignment, e.g. for skew mounted frames
Correction of red eyes caused by flash light effects
Turning portrait format images and flipping side-inverted images
Removing noise
Sharpening the image with unsharp mask
Black borders which occure for example if a 35mm slide has not been neatly mounted or if an enhanced scan area is selected are being cropped. We perform adjustment of contrast and brightness by means of level corrections or gradation curve modification. Red eyes caused by flash light effects will be removed (only with human faces - not possible for animals) if possible. We rotate portrait format images into upright position, and flip wrongly mounted slides (insofar as it can be recognized for example by letterings in the image). Furthermore, if neccessary, we perform smoothing in order to minimize image noise and we sharpen the image by means of an unsharp mask.
Professional image editing
Within our professional service we perform extensive individual image editing according to your demands. Besides the above mentioned standard image editing functions we use individual techniques for optimizing your images and bringing them to perfection. For example:
Extensive retouching
Alignment of the image with horizon line or rotation as desired
Correction of perspective distortion (e.g. images of architecture)
Application of filters and effects of any kind
Image modification as desired (e.g. solarisation or change of contrast)
Beauty retouching (e.g. full lips, more appealing eyes, smooth skin)
Composing (collage of two or more images)
Cropping as desired, changing image sizes
Our professional image editing service is executed exclusively by skilled photographers and digital media designers with longtime professional experience. Thereby all potentials of Adobe® Photoshop® can be used. Very important is the individual consultation via e-mail, via phone or personally in our office in order to pinpoint which corrections and optimizations you wish to be performed.
| Surcharges | Surcharge incl. VAT |
| --- | --- |
| Standard image editing: Surcharge per image | 0,60 € / image |
| Professional image editing: Price per hour | 60,00 € / h |
For our image editing service we use Adobe® Photoshop® on computers with calibrated displays. The image editing is executed by skilled photographers and digital media designers with longtime professional experience. Thus we can assure a high quality standard and professional, thorough processing.