How to find us
The town Unterhaching is located in the south of Munich; it is the first village which joins directly to the southern suburbia of Munich. The transition from the city of Munich to the village of Unterhaching is continuous.
Greater area of Munich
When you come from the highway A8 (direction from Stuttgart), from the highway A9 (direction from Nürnberg), from the highway A92 (Airport-highway), from the highway A94 (direction from Passau) or from the highway A8 (direction from Salzburg), drive around Munich on the ring highway A99 until you reach the exit #2 Unterhaching.
When you come from the highway A96 (direction from Lindau), the highway A95 (direction from Garmisch) or directly from Munich, keep on drving on the Mittlerer Ring in direction to Salzburg. The "Mittlerer Ring" changes to the A99 at the southern end of Munich, and only about 1 km behind Munich there is the exit #2 Unterhaching.
From the exit Unterhaching there are only 2 km left until you reach our office.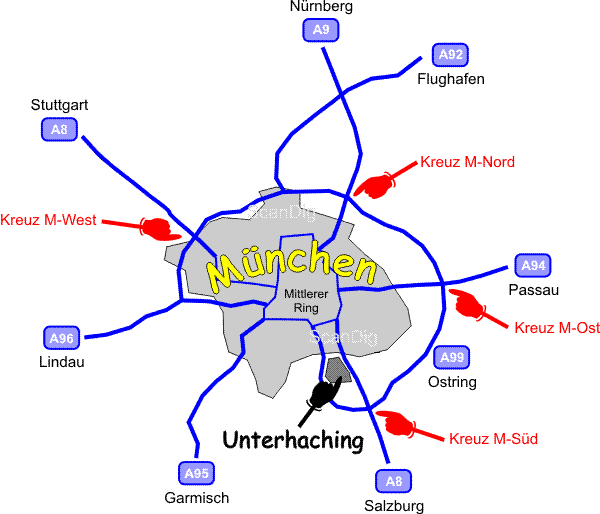 Unterhaching
When you leave the highway A99 at the exit #2 "Unterhaching", a traffic sigh leads you to Unterhaching. Follow the "Münchner Straße"; the Fasanenstraße is a parallel street of it. Turn left after about 1 km eather on the Oskar-von-Miller-Straße or the Johann-Strauß-Straße or the Erzbergstraße and continue driving to the Fasanenstraße.
Alternatively you can take the exit "Unterhaching" on the A8 and take the Ottobrunner Straße until you reach the center of Unterhaching. After a roundabout keep on driving straight on until you reach a traffic light. At the traffic light, please, follow the main street on the right site, which is called Biberger Straße. After about 500 m a sign leads you towards Munich at the second traffic light. Pass the following roundabout, drive underneath the train bridge and turn right at the next possible crossing to the Erzbergstraße. Then you come accross the Fasanenstraße.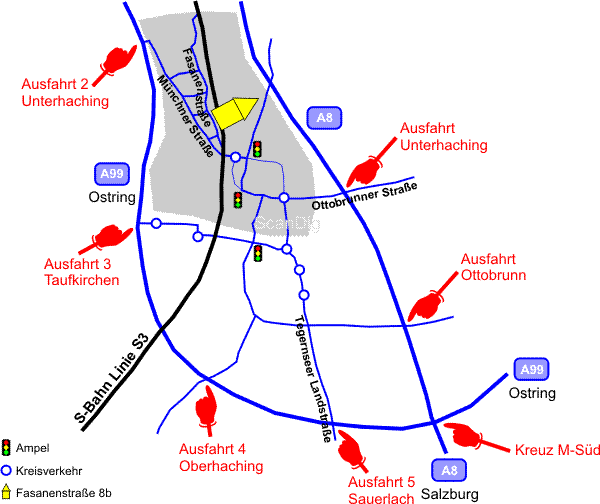 How to find us with the train (S-Bahn)
Our office is located about 300 m away from the train station Unterhaching. When you exit the S-Bahn and go down the stairs at the rear end of the train, please, walk about 100 m on the pedestrian trail parallel to the train rail, and you are at the beginning of the Fasanenstraße.
With the public S-Bahn train you can reach Unterhaching from Munich Marienplatz within 18 minutes or from Munich main train station within 21 minutes. The S-Bahn trains run every 10/20 minutes.
---
Copyright ©: Firma ScanDig, Fasanenstraße 8b, 82008 Unterhaching, Tel.: (089) 66 50 81 30